PRIMERA DIVISIÓN is new in Hamburg and had its try-out in July 2016 at the award-winning club Cascadas in Hamburg. Since the band has performances at regular interval as well in clubs as open air in Hamburg and Schleswig-Holstein.
Here you find the gallery of highlights of our concerts.
---
---
22th of february 2019
29th of march 2019
LATIN CINEMA + LIVE MUSIC SPECIAL

, Jarrestraße 20, 22303 Hamburg
The Hamburg premiere was
SOLD OUT

!

So t

here was an

additional show

on Friday, 29 of march 2019 at the same location (Alabama Kino at Kampnagel).
Cine Latino + Live Music Special   – Hamburg Premiere of the documental "RUBÉN BLADES IS NOT MY NAME" ("YO NO ME LLAMO RUBÈN BLADES"), warm-up and After Show Party with Hamburg`s 10-piece Salsa & Latin Jazz Bigband "PRIMERA DIVERSIÓN" THE MOVIE Latin American icon Ruben Blades was at the center of the New York Salsa revolution in the 1970's. His socially charged lyrics and explosive rhythms brought Salsa music to an international audience. Blades has won 17 Grammys, acted in Hollywood, earned a law degree from Harvard and even ran for President of his native Panama. He lives in New York, where he shares his life at home and on tour with the camera. Critically acclaimed director Abner Benaim takes us on a journey through Ruben's 50 year career, revealing that Ruben might still have both musical and political ambitions. The film is a celebration of this living legend and his struggle to come to terms with his legacy. Panama 2018, Original with subtitles Spanish/ English A film by Abner Benaim. Produced by  Apertura Films (Panama), Gema Films (Argentina) and Ciudad Lunar (Colombia) with the support of DICINE, INCAA, Ministerio de Cultura – Colombia, TVN, Copa Airlines y Caracol TV. World premiere in SXSW 2018 – 24 Beats Per Second. Winner of the Audience Award. Festivals: SXSW (USA), Ambulante (Mexico), Guadalajara (Mexico), BAFICI (Argentina), IFF Panama, DocsBarcelona, Seattle International Film Festival (USA) THE BAND PRIMERA DIVERSIÓN made its debut in July 2016 at the award-winning Cascadas music club in Hamburg. Since, the  band had many inspiring in- and outdoor performances in Northern Germany. On stage, PRIMERA DIVERSIÓN performs as an international line-up with 3 solo singers, a 6-piece rhythm section and 8 wind players. With their salsa and latin jazz classics, PRIMERA DIVERSIÓN gets everyone on the dance floor – salsa-unexperienced audiences as well as professional dancers – into the mood of an exuberant Caribbean "rumba". You can expect energetic wind voicings, paired with Latin American beats in unique arrangements and love of life! The multicultural big band offers a varied musical repertoire containing songs that have been exclusively arranged for this special ensemble and are more than enough to provide a full evening's entertainment. PRIMERA DIVERSIÓN brings tropical atmosphere and summer feeling into the location. www.1adiversion.de
Trailer "Yo No Me Llamo Rubén Blades" (Ruben Blades is not my name) on Vimeo
A film by Abner Benaim
(84′, 2018)
Panamá, Argentina
---
27th of october 2018 Latin Night at Cascadas club, Hamburg
Primera Diversión at Cascadas!
Where everything began: In July 2016, PRIMERA DIVERSIÓN made its debut at Cascadas Bar and surprised the audience for the first time. 2 years later they returned to the scene of triumph! Club Cascadas, Ferdinandstraße 12, 20095 Hamburg
---
---
7. July 2018 Latin Night at Goldbekhaus, Hamburg-Winterhude
Primera Diversión live at Goldbekhaus!
An exiting and inspiring evening with 3 singers, an 8-piece wind section and a 6-piece rhythm section on the stage at Goldbekhaus
9. june 2018 Latin Night at Land-Art, Havetoftloit (Schleswig-Holstein)
For the second time, Primera Diversión performs live at Land-Art, the trendy country tavern between Schleswig and Flensburg!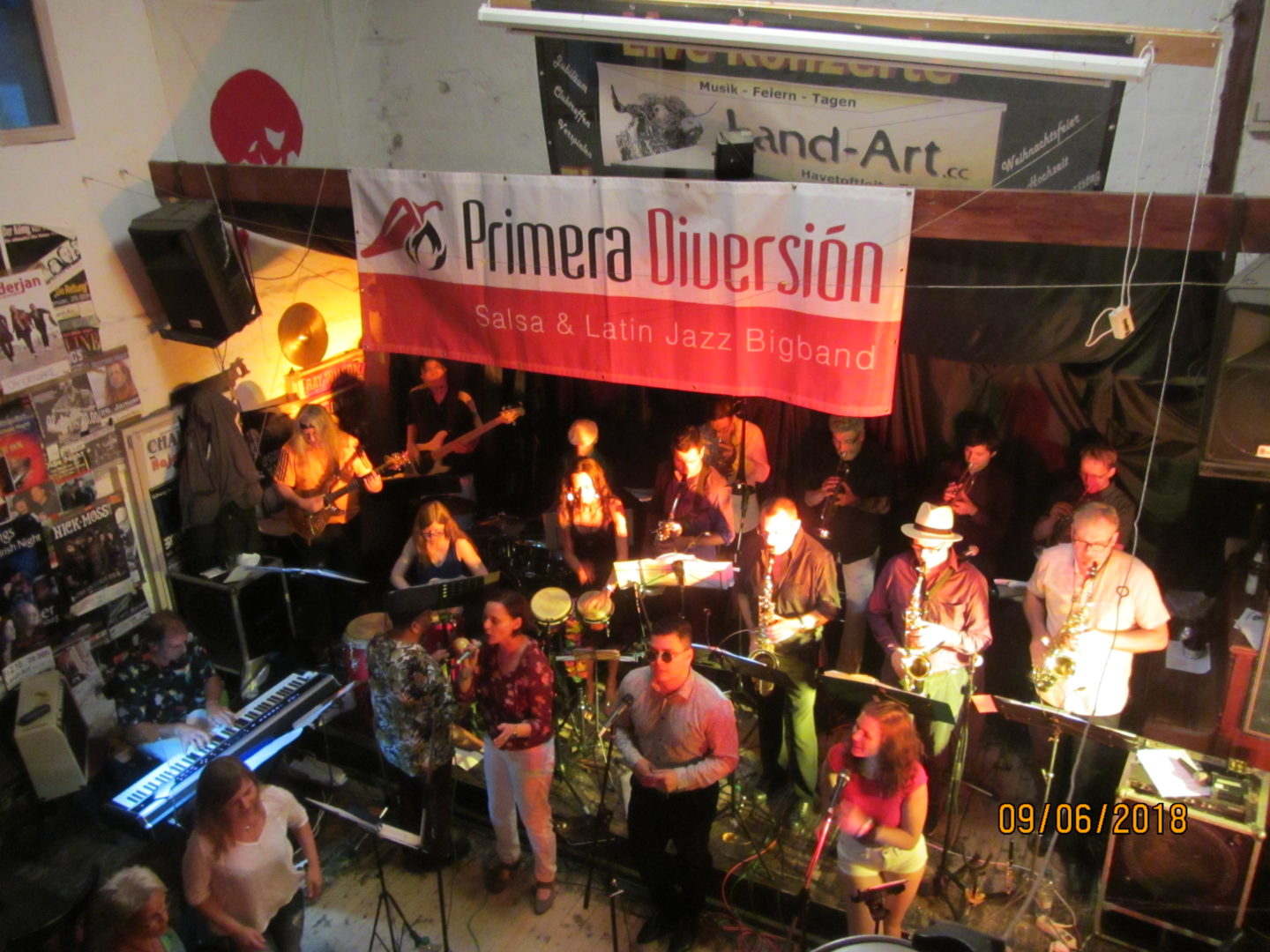 ---
19. May 2018 Latin Night at Stellwerk, Hamburg-Harburg
Right above the platforms 3 and 4 at long-distance train station Hamburg-Harburg, PRIMERA DIVERSIÓN presents its live concert, this time featuring our 3 solo singers Fanny Rebolledo, Cecilia Martínez and Osvel Mesa Morales! With her taster salsa dance course, Cecilia gets everyone on the dance floor – salsa-unexperienced audiences as well as professional dancers.
---
---
16. September 2017 Latin America Festival at the FABRIK, Hamburg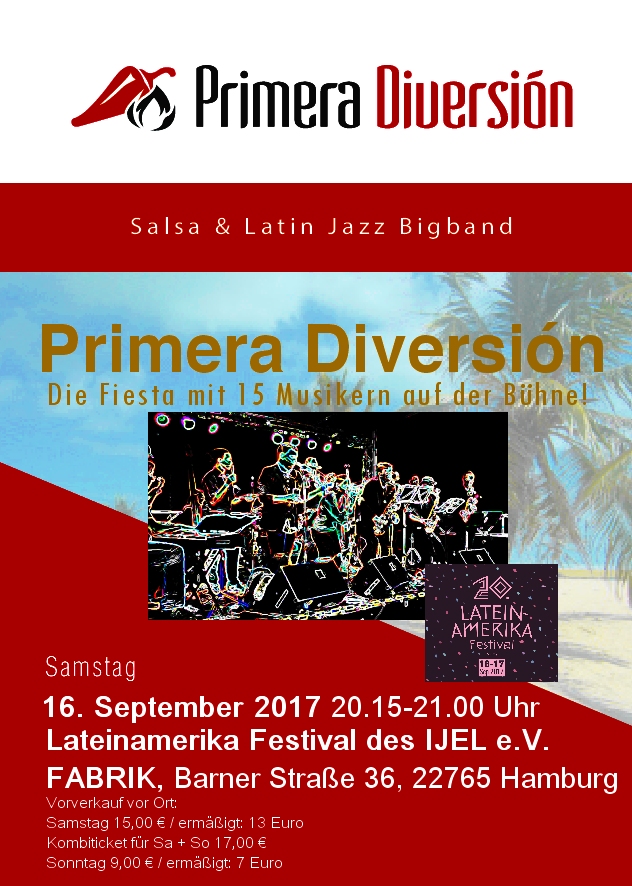 Instagram Posting
"Do you remember how we danced to the salsa tunes of Primera Diversion?" 43 ♥
ZEIT Online
"Viva el Festival: Latin America is not only known for salsa or tango, it also offers a huge cumbia, reggae, chicha and punk scene. At the 20th Anniversary of the Latin American Festival bands like […] Primera Diversión let wiggle your hips." (15.9.2017)
Primera Diversión live at the FABRIK!
On saturday, 16th of september 2017 PRIMERA DIVERSIÓN enters the stage together with two other Latin groups at the Latin American festival of the "International Youth Association Europe Latin America e.V." (IJEL)!
IJEL was founded in 1990. In the beginning, there was the idea to create a refuge for young persons with Latin American roots. Later on, more and more adolescents of different descents comitted themselves to the association. The association's main activity consists in organization and conducting of intercultural youth encounters between Hamburg and Latin America. For 20 years generations of young inhabitants of Hamburg are working together building bridges between the cultures within the context of IJEL. All earnings of the Latin America Festival go to projects with young persons from Latin America and Hamburg.
---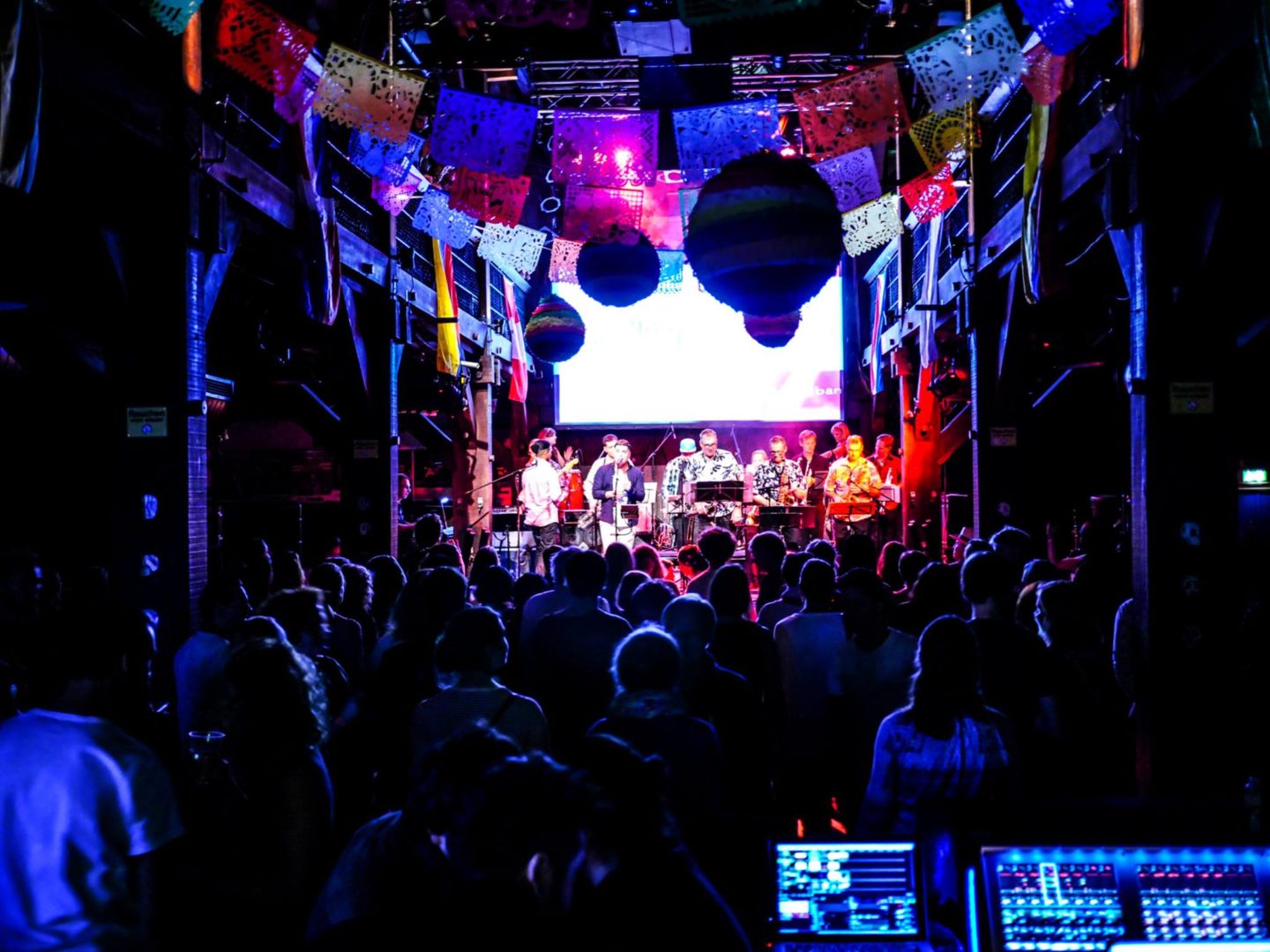 ---
---
12. August 2017 – Summer Jazz Festival, Pinneberg (Schleswig-Holstein)
Once again, PRIMERA DIVERSIÓN performs free and open air! – this time on the main stage of SummerJazz Pinneberg 2017! The SummerJazz Festival, held from august 10 to 13, is worth a little journey! Within walking distance from the S-Bahn station Pinneberg, stages are scattered around the whole town centre of Pinneberg,  and the small town  grooves and swings like hell. For the visitors, admission is free. In order to support the SummerJazz every year, a new SummerJazz pin is created which can be purchased for 6€ as a voluntary "entrance ticket. This year it's a resonator guitar, matching this year's motto "Jazz goes Nashville".  – The audience likes the alternative programme of PRIMERA DIVERSIÓN'S fascinating show.
1. july 2017 – Methfesselfest
Georg P.
"We have good memories of your perfornance last year and we would appreciate to see and hear you on our next festival."
This is how Georg P., the organizer of the Methfesselfest, wrote to us. PRIMERA DIVERSIÓN did not need telling twice, and so the band als well as the visitors of the festival were looking forward to the new performance this year. The dance school "EL CHÈVERE" came to our performance and offered exciting choreographies in line dancing and rueda style to the amazed public.
8. April 2017 – La Bodega Surimex, Hamburg
After our trip to rural Schleswig-Holstein we play in Hamburg again: Already well-known in the Latino scene, La Bodega SURIMEX for most people of Hamburg still is an inside tip and a really original location:  The club is situated in the casemates under the subway line of subway station Hamburger Straße! It is run by Señor Federico Breitung who supplies the people of the Hanseatic city in his market and bistro SURIMEX on Mundsburger Damm with excellent groceries imported from Latin America.
18. february 2017 – LandArt, Havetoftloit (Schleswig-Holstein)
Salsa & Latin Jazz Bigband PRIMERA DIVERSIÓN has the honour of performing in the North of Schleswig-Holstein! More or less in the middle between Schleswig and Flensburg you can find the Land-Art, a super-cozy country inn and cultural events center in the tiny village of Havetoftloit. For some people still an inside tip, it's the meeting point for the scene in Schleswig-Holstein, and in the particular case of a Latino event like the Salsa & Latin Jazz Bigband PRIMERA DIVERSIÓN dancers of the vibrant salsa scene from Flensburg, Kiel and Hamburg come together here.
For the people of Hamburg a visit of the LandArt can be combined easily with a trip to the North Sea, the Baltic Sea or the river Schlei. And in the evening the Salsa & Latin Jazz Bigband PRIMERA DIVERSIÓN stands ready for a lively dancing.
Tatjana B.
Thank you very much for the terrific evening ❣️ ❣️ That was a really amazing concert! 👏 👏 "
Hajo E.
"I see it the same way…. it was a succesful evening at Land-Art with 'Primera Diversión'."
25. november 2016 – Fat Lenny's, Hamburg
In the recently newly opened BBQ restaurant and club "FAT LENNY'S" (formerly known as NewEssBar), in front of the FABRIK, PRIMERA DIVERSIÓN commenced the "Metrosession" with its concetrated power of Latin rhythms.
---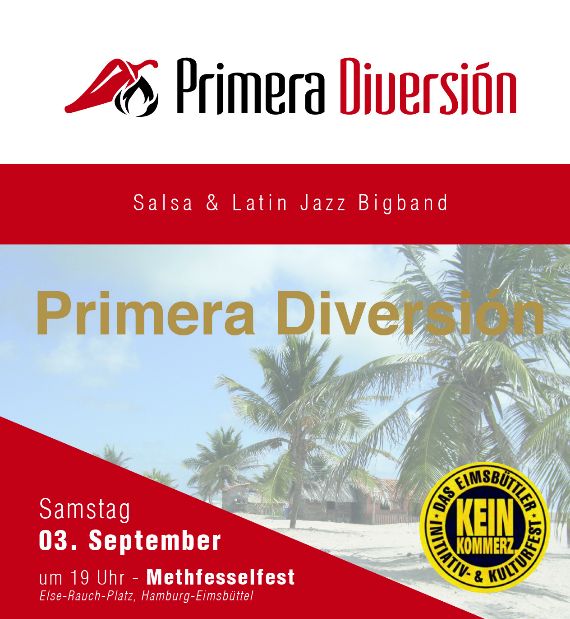 3. september 2016 – Methfesselfest, Hamburg
At the beginning of september 2016, after a rainy summer season, Salsa & Latin Jazz Bigband PRIMERA DIVERSIÓN brings back tropical vacation feelings to the visitors of the METHFESSELFEST.
14. june 2016 – Cascadas, Hamburg
On summer friday the new Salsa & Latin Jazz Bigband PRIMERA DIVERSIÒN has its try-out in Hamburg as opener of the Caribbean Night in the Cascadas Bar, located around the corner of the Binnenalster. Energetic wind chords from specially for this band arranged scores, matched with Latin American rhythms and love of life, are waiting for its audience which is positively surprised by this new big line-up of musicians in Hamburg! The concert begins at 9 pm on time, the turnout is excellent and the dance floor is booming. The concert is followed by the well-kown Caribbean Salsa Party.
---
---